Restaurant
Since nearly one century, the restaurant La Gerbe d'Or is a place of familiar appointment for lots of Lochois. The "Tuffeau" breathes the perfumes of the seasons, the large fireplace-dreams of the coloured scents of the aromas, with sweet and savoury spices, and the porch is curved to pay homage to this place where cooking becomes gastronomy.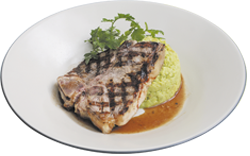 See you soon at our table !
Hélène et Didier.

The restaurant accepts the "Tickets Restaurant" and the "Chèques Vancances".